125252, Moscow, 12 Aviakonstructor Mikoyan street
Phone: +7 (495) 664-81-71, fax: +7 (495) 664-81-72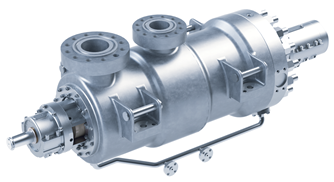 CNSDp

Double-casing, radially split, multistage
between-bearings pumps, BB5 type (API 610)

DESCRIPTION
CNSDp pumps are horizontal, double-casing, radially split, multistage, between-bearings pumps of a BB5 type (barrel pumps), in full compliance with ANSI/API standard 610 (ISO 13709:2009).

APPLICATION
Water injection into reservoirs to maintain formation pressure
High-pressure oil refining processes
Various applications in petrochemical and gas processing industry
Gas condensate treatment units

TECHNICAL DATA
Capacity: up to 1840 m³/h
Head: up to 2800 m
Pressure: up to 300 bar
Max temperature: + 400 °C

MATERIALS
Duplex steel (D-1 class according to API 610 11-th Ed.)


Super Duplex steel (D-2 class according to API 610 11-th Ed.)



Pressure casing: duplex steel GX2CrNiMoCuN-25-6-3-3
Inner case parts: duplex steel GX2CrNiMoCuN-25-6-3-3    
Shaft: duplex steel X2CrNiMoN-22-5-3
Wear rings parts: hard-faced duplex steel

Pressure casing: super duplex steel GX2CrNiMoN-26-7-4
Inner case parts: super duplex steel GX2CrNiMoN-26-7-4
Shaft: super duplex steel X2CrNiMoCuWN-25-7-4
Wear rings parts: hard-faced super duplex steel


DESIGN FEATURES
The pump rotor is hydraulically unloaded by the oppositely arranged impellers fixed on the shaft by their press fit, embedded rings and shaft keys.
The outer casing is engineered and rated for the maximum allowable working pressure (MAWP).
Suction and discharge nozzles are directed vertically upwards. The pump supports are located on a centerline. The inner casing of a cartridge type consists of the radially split sections with metal-to-metal sealing and additional rubber rings completely eliminating internal circulation of the liquid. Due to a cartridge design the inner casing can be replaced on the site of operation without dismantling the outer casing.
The pump rotor is supported by the segmented bearings with forced lubrication system.
The residual axial force arising as a result of uneven wear of impellers' seals during operation is accepted by the Mitchell type thrust bearing with self-aligning pads and leveling system.
An oil pump of the lubrication system can be optionally installed on the main pump shaft.
The rotor sealing can be either single or double mechanical type in accordance with API 682. Pressure in the sealing system is maintained by a hydraulic accumulator. The impeller of a mechanical sealing provides circulation of the barrier fluid that is cooled in a heat exchanger. The pump is connected with a drive through the elastic diaphragm coupling.

PUMPED MEDIA
Highly-corrosive seawater, stratal water and waste water (including the fluids containing hydrogen sulfide):
Density, kg /m3: up to 1180
Max size of solid particles, mm: 0.2
рH value: 4 ... 9
Oil content, mg/L: up to 200
H2S content, mg/L: up to 400

OPERATIONAL INTERVALS AND LIFETIME
Depending on the pumped media the average operational lifetime amounts to:
Mean time between overhauls (MTBO): over 40000 hours
Casing parts service life: over 30 years

PERFORMANCE RANGE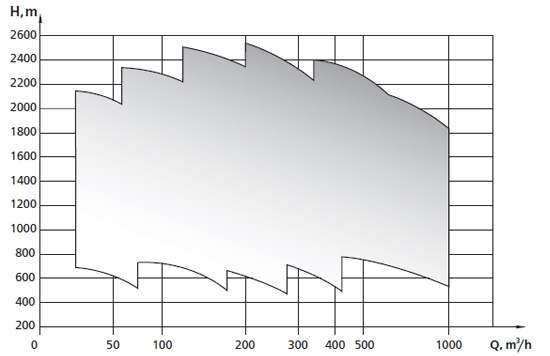 Back to the section
Incorrect information block